How do I monitor and improve my vessel data quality?
Operational decisions are only as good as the data they're based on. My Digital Fleet's Vessel Data Monitor provides continuous visibility into the health of your vessel data quality to help you identify where changes are needed most throughout your digital transformation.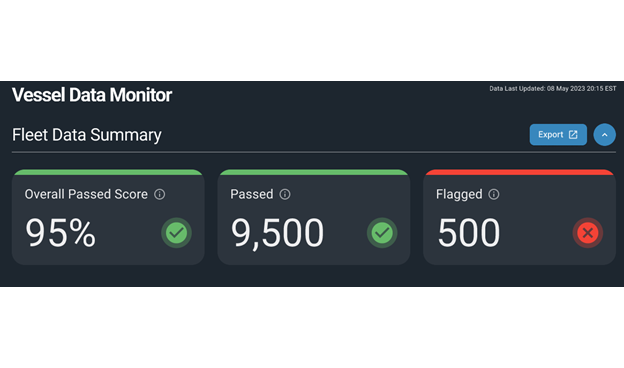 Fleet Overview
Summary of fleet data quality.
Data Quality Scoring
Quickly visualize potential data issues.
Discover Other Capabilities
My Dashboard
View environmental risks, fuel performance, routes and more — on a per vessel basis — and empower a more sustainable fleet with greater operational efficiency. 
Environmental Monitor
The Environmental Monitor continuously measures your fleet's carbon footprint, including your CII rating, and helps you make decisions toward decarbonization.
Vessel Performance Monitor
Using algorithms based on ISO standards to provide in-depth vessel performance metrics makes it possible to address maintenance needs before they negatively impact profitability.
Need More Guidance?
Take a guided tour of My Digital Fleet with one of our experts to see how it works firsthand.
Contact Us